Windows 10 Price and Upgrade Cost

For anyone who runs one of the last three versions of Windows (any edition of Windows 7 or Windows 8 / 8.1), Microsoft has announced that the upgrade will be free. The fine prints? You need to upgrade within a year of the launch of Windows 10, scheduled for July 29th, 2015. All versions will be eligible to upgrade (though not necessarily for free), with the exception of Windows 8 "RT" edition, which cannot run Windows desktop applications. So you'd have to take care of upgrading your PC no later than the 28th of July, 2016. That leaves you plenty of time to take action :)
How to upgrade to Windows 10?

It's already possible to "reserve" your upgrade: that's probably more of a marketing gimmick than anything else, because at no point has Microsoft indicated that there would be a limit on the number of users eligible for this promotional offering. Here's what the notice looks like. In early June, 2015, a series of cryptic Windows Update patches started appearing, and there description mentioned something like "ease of upgrade for Windows". Well, now we know that it was the Windows 10 prompt that appears the notification area of your taskbar (formerly known as the "system tray"), in the form of an icon representing the Windows 10 logo:

Why would Microsoft make Windows 10 free?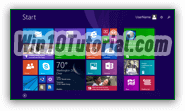 Microsoft took a big gamble with Windows 8, which mostly failed: provide a single operating system experience, whether the user was on a desktop computer, a laptop, or a tablet. Trying to force a "touch interface" onto desktop users (and laptop users without a touch screen) wasn't the right approach, and the market responded by mostly shunning Windows 8, and even Windows 8.1, which timidly addressed some of these concerns. Over two years after its release (October 2012), Windows 8 / 8.1 only commands about 7% of the desktop operating system market. Compare that with Windows 7, at nearly 60% of market share in summer 2015 (Windows 7 was released in July 2009).
Windows 10 Pricing for download upgrades
After the first year, and starting right away for users of older Windows version (namely, Windows XP and Windows Vista), here's what the pricing looks like. (For more details on the differences, have a look at the Windows 10 Editions.)
Upgrading to Windows 10 using a DVD (box-retail software)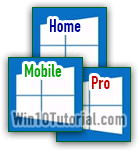 In previous years, it was sometimes possible to get an upgrade for the price of shipping and handling. This was a near-necessity a few years ago, when most people didn't have access to a broadband internet connection. Microsoft hasn't said anything about purchasing physical media to upgrade, but we'll know that by the end of the summer. If history is any indication, the upgrade DVD will probably be in the US $20-$30 range. This type of upgrade typically doesn't come in the fancy retail box: it's just a transparent jewel case (like the bare-bones OEM versions of Windows you might have seen in the past), or even in a paper sleeve. Again, no confirmation (or denial) that this option will be offered at some point.
Box-retail pricing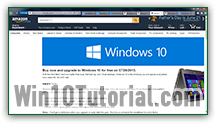 We'll know for sure on July 29th, but it seems confirmed that the box version of Windows 10 Home edition will cost $119 US (MSRP), and boxed version of Windows 10 Pro will cost $199 US, also MSRP. Pictured left is the page Amazon has already dedicated to the boxed version of Windows 10, over a month before its actual launch date. With the "Reserve Windows 10" invitation, which will download the operating system in increments on your computer, ready to be installed by July the 29th, Windows 10 will likely sell much less physical copies than its predecessors. (Plus, broadband internet adoption makes it much more feasible today to download an entire OS, than was the case just a few years ago!)
Upgrading to Windows 10 from Windows Vista or Windows XP

If you're running an earlier version of Windows, but your hardware supports Windows 10's system requirements, you can upgrade, but it won't be free. You'll have to buy the full version of Windows 10, which costs $99 (US) for the Home edition, and $199 (US) for Pro. (This edition corresponds to the "Professional" editions of Windows Vista and XP.) This is for the download price. As things stand, the box-retail version of Windows 10 Home edition will be $119 (US), while Windows 10 Pro edition will retail at the same price as the download, for $199 US. It's possible, but unconfirmed, that Microsoft might let you upgrade with a download that you'd engrave yourself onto a bootable DVD or bootable USB drive - no word on that yet.
Unannounced pricing details

Several editions of Windows 10 don't have an official price yet:, like the "IoT" ("Internet of Things") edition, the Enterprise and Enterprise mobile editions, only available as an upgrade from Windows 10 Pro, and the Academic edition, which like Enterprise edition, are generally sold to large organizations. Windows 10 IoT edition is designed for computers like Arduino and Raspberry Pi.