Prevent Edge browser tabs from showing-up in the Alt-Tab list of programs
I still can't make up my mind whether this is a smart and helpful feature, or a useless irritation. Microsoft, who created the Edge browser, started making your browser tabs show-up in the Alt+Tab list. When you only have two apps running, it's puzzling to see five "programs" appear in the task switcher list:

That's especially true because many of us have WAY more than four browser tabs opened at any given time. Maybe websites and web apps "feel" out of place in the Alt-Tab listing unless you've actually pinned them to your taskbar?
Thankfully, we can still hide web pages from Alt-Tab, but you'll never guess how or where. I learned that the hard way, after scanning every single Edge setting.
Hide Edge browser tabs from Alt-Tab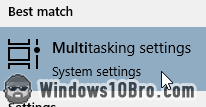 Click on the start button (Windows logo), and start typing "multitasking". (I told you that you would never guess.) Then, click on "Multitasking settings": this opens a page in the Windows 10 Settings app.
Locate the "Alt + Tab" heading on that page, and click on the "Pressing Alt + Tab shows" dropdown. To only show program windows, and not individual web pages / web apps / browser tabs, select the last option, "Open windows only":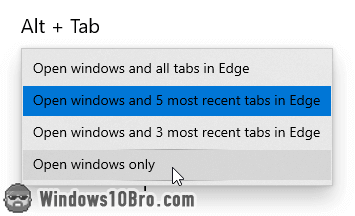 As a software developer, it's always hard to strike the right balance between giving users lots of options to customize your software, but without making the app too confusing either. When I look at the middle options (to only show the most recent 3 or 5 Edge browser tabs), it makes a lot of sense. Give it a try before you settling on your final choice - you may like that functionality.
There is no right answer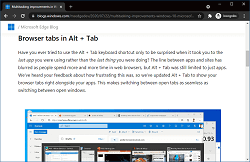 While researching material for this tutorial, I came across this article on the Edge blog. It's a thoughtful discussion of the pros and cons, and it seems (subtext) that their team realized that there was no "right answer". That's why they made their decision optional, and why we can turn off this default behavior. I just wonder how many people dislike it but don't realize that they can turn it off.