The Desktop
When all your windows are minimized, all you see is your desktop. Just like the taskbar and the start menu, the desktop shows you the content of a special folder. Each Windows user gets their own profile folder, including you. And each user gets their own desktop folder. That's why you never see someone else's files and folders on your desktop (assuming that others also access your PC.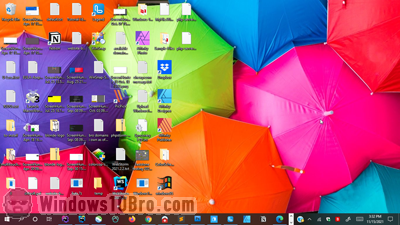 Here's my desktop, but this time viewed as a standard folder, inside File Explorer (Windows Explorer). Some special shortcuts don't show up in the folder view of your desktop, like the recycle bin (trash can icon, visible in above screenshot).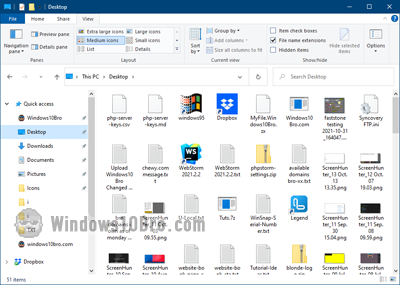 Quickly view your desktop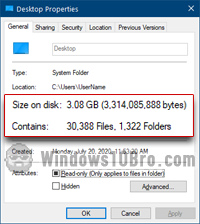 Because of its convenience, everyone's desktop quickly becomes a dump. Except maybe for the Downloads folder, the desktop is often the default save location for all files we forget about the next day. Most people I know and most users I've supported have so many icons on their desktop that it overflows off screen. (Myself included - I'm not preaching.) But because the desktop is such a heavy-traffic area, Windows gives you multiple ways of quickly accessing it.
The first is the "Peek" button: that functionality, known in Windows 7 as "Aero Peek", quickly minimizes all your windows and shows your desktop. Back then, it annoyingly minimized everything when your mouse moved over it: in most cases, that happened by accident. In Windows 10, peek requires a click by default. The peek button is the small rectangle in the right of your taskbar:

Using Quick Access in Explorer
By default, File Explorer shows two shortcuts to your desktop. The first is an icon when "This PC" is selected on the left: double-click on it to show the content of your desktop. The second is the Desktop shortcut pinned in the Quick access pane on the left (see screenshot). One click on it brings you to your desktop: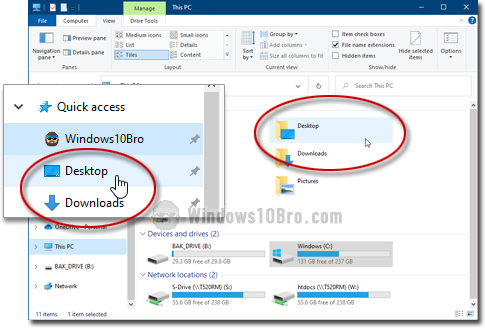 Two keyboard shortcuts to remember
If you hold down the

key on your keyboard and press D (as in Desktop), Windows will minimize all your windows and show the content of your desktop. If you hit

+D once more, Windows will restore all your windows, exactly as they were a minute ago. However: the

+M keyboard shortcut, (where M stands for Minimize), behaves differently. It will minimize everything and show your desktop, but hitting it again won't do anything.